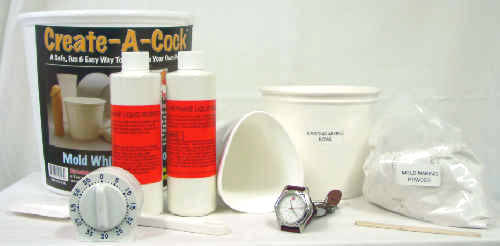 As a result of numerous requests from our many latex customers & distributors, we are happy to announce the availability of our newest fun-filled adult novelty product -
Create-A-Cock™ - A Complete Penis Molding Kit.
Create-A-Cock™ is a safe, fun and easy way to re-create your own penis......in precise, loving detail. This kit contains everything necessary for you to create a most unique and personal gift for someone very, very special........so that they can enjoy you anywhere.....and anytime. So go ahead......
Mold While You're Bold !
Directions for Use
This molding kit has been designed as an adult novelty product for easy replication of your erect penis. Please follow all directions carefully.
Your Create-A-Cock™ molding kit contains the following items:
· one bag of mold making powder

· 16 fluid ounces of 2-part urethane duplicating material (marked Part A and Part B)

· two mixing bowls (one large & one medium)

· one plastic casting container
Before starting the molding process, we strongly recommend that you have the following additional items available to assist you:
· lots of paper towels

· a large spoon or ladle (i.e. a cake mix spatula made of soft rubber is a good choice)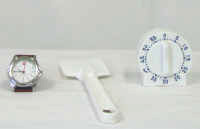 Other extras that will be helpful (though not essential) during the molding process:
· a clock with a second-sweep hand, or stopwatch, or egg timer

· a playful partner to assist you (while you follow the molding directions, you are also going to have to maintain an erect penis. Having a partner may help you fulfill this requirement…….I think you get the point)
Step #1 - Fill the plastic mold cup to the top brim with lukewarm water. This water is going to be mixed with the white mold-making powder in the large plastic bucket that Create-A-Cock™ was packaged in. Unlike other molding kits on the market that use very cold water to slow the drying process, we recognize what a discomfort it would be to place your ERECT PENIS IN FRIGID COLD WATER!!!! Because drying time of the casting material is greatly affected by water temperature, we suggest that you pour lukewarm water into the plastic mixing cup and allow to stand at room temperature (68º F to 72º F) for ½ hour.

Step #2 - Open the casting material bag and place the white powder into the large plastic bucket. Pour the room-temperature water from the plastic molding cup into the bucket quickly. Use a large spoon or spatula to mix the powder into the water, making sure that you scrape the sides of the container thoroughly for complete mixing. This procedure must be done quickly. You have approximately 45 seconds to mix the material and pour it into the casting cup once the water hits the powder. This doesn't give you a lot of time, so don't waste it.


Note: when mixing, you will notice a lot of "clumps" in the mixture. Don't worry - this is common with all body casting materials, and it will not cause problems whatsoever with the penis molding process.


Step #3 - Once you have mixed the water and body casting powder thoroughly in the 45-second timeframe allotted, immediately pour the entire soupy contents into the plastic mold cup that you just poured the water from. Fill the casting cup to the top rim.

Step #4 - Place your erect penis and balls into the casting cup. This procedure is a bit messy since the excess casting material will run over the sides of the plastic molding cup (the bigger you are, the more casting material which will be displaced in the casting cup upon the insertion of your penis). We suggest that you do this operation over newspaper, or over a towel, or better yet inside a shower or bathtub. Note: any overflow casting material can be easily wiped up with paper towels and disposed of.

The remaining molding material inside the casting cup will begin to cure in 2 to 3 minutes after insertion of your penis. You will notice that the material stays somewhat flexible as it cures. When you can no longer push your finger into the casting material, it has fully cured (this can take 6 to 8 minutes)

Step #5 - After the casting material has cured, remove your penis. You will see your penis impression in the cured molding material.

Step #6 - While the casting material is still curing (it will take about 10 minutes at room temperature to fully cure), pour all of Part A of the urethane casting material into the paper mixing container, followed immediately by all of Part B (please, stay in that order for best results) of the urethane casting material. Prior to using the Part A and Part B urethane casting materials, be sure to shake each container well. Mix these parts together with the wooden stick that has also been provided. You now have 15 minutes working time with this mixed material before you need to pour it into the mold. After stirring the material well, pour the casting material into the mold, completely filling your penis impression. Let this sit at room temperature for at least 24 hours to make sure the mold is fully cured.

Step #7 - Remove the urethane casting material from the mold after 24 hours, then wash your new penis creation in mild soap and water, and enjoy your new, rubberized, personalized dildo.

This premium adult fantasy product makes an excellent gift for you ladies that want to show your man just how much you really need to enjoy him......all the time.....anytime......anywhere......and as often as you'd like. What better personal keepsake could you possibly ask for. (And just think of all the fun you'll both have creating a superb replica of his manhood !!)
So…..if you're truly ready to 'Mold While You're Bold'…..then you're surely ready to order.
Key Benefits of our Create-A-Cock™ Penis Molding Kit
:
.....molding process is very easy & fun (especially when a special friend helps).
.....mold materials are totally safe and non-toxic.
.....makes an exact replica of your penis.
.....is an excellent personalized gift.
.....your penis replica provides hours of fantasy excitement for you and your friends.